You have reached the end of our
Christmas-Winter Fred She Said BLOG HOP
:) I hope you enjoyed the wonderful creations the Fred She Said DT have created. If you are wondering what I am talking about ( what!? LOL) Please go
HERE
to start your journey ;)
ENTRY INSTRUCTIONS:
Collect up all the special words from each stop . Once you have your phrase, enter it at fredshesaid.contest@gmail.com or clicky this EMAIL LINK with BLOG HOP in the subject line, enter your secret phrase and your name. Please, one entry per person. Please enter by
Friday December 2nd
Midnight EST.
Winners will be announced Saturday December 3rd
on this blog and the FSS Challenge Blog.
We are happy to have
CROPSTOP.COM
sponsoring us this go around.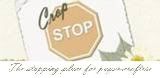 If you're passionate about paper-crafting whether it be scrapbooking your memories, making cards or altered art, CropStop is your one-stop solution. We offer an extensive selection of dies, embossing folders, inks, stamps and punches by all the popular manufacturers and the CropStop die and embossing folder storage solutions Pocketz Pages™ to keep everything organized. Our selection of embellishments and adhesives is continually expanding and we are excited to be the home of the colorful Ribbon Candy™.
In need of inspiration? Visit the CropStop Gallery, Blog or Message Board and participate in a competition or class. If you have questions concerning your machine, we have a team of experts waiting to help you.

Message Board - come and meet like minded paper-crafters.
Blog - we have prizes and giveaways every week.
Gallery - lots of inspiration from all over the world.
YouTube - demonstrations, how-to's, projects and much more.
FaceBook page - be the first to know of new arrivals in the store.
Twitter - we always find something worth Twittering!
CropStop ships internationally as well as domestic. Our personalized customer service is only one of our strengths. Call or come visit us at www.CropStop.com and see what's new in the world of paper-crafting.
PRIZES:
3 random winners. 1 winner for each prize below:
$30 GC for www.cropstop.com
$30 GC for Fred She Said
$30 GC for Fred She Said
BLOG HOP LIST
in case you have lost your way :)
Fred She Said Blog
Michelle
FSS Challenge Blog
( YOU ARE HERE)
Good Luck! :)