Hi! You are at your
FINAL STOP
on the
Fred She Said Favorites BLOG HOP
. You should have come from
ANNE's
post. The hop list ( in case you lost your way) is on this post below.
TRACEY's HOP entry
can be found toward the bottom of this post.
Please leave a comment on this post as it counts as an entry to WIN! :D
******************************
Fred She Said Favorites HOP - HOW TO ENTER
To ENTER,
please leave a comment on each BLOG HOP POST
. There will be
ONE winner
. A random hop post will be chosen and then a comment on that post will be chosen randomly to win.
BLOG HOP closes Friday, JULY 29 midnight EDT
so please leave your comments by then ;) Commenting on ALL the hop stops is NOT necessary to WIN... BUT it definitely increases your chances of winning ;) and spreads some LOVE! Please make sure you leave your name in your comment!
NOTE: some DT's moderate their comments for evil spam so please be patient if you don't see your comment right away.
THE BIG PRIZE:
£15 Gift Voucher to
Bearly Mine Designs
$15 Prize Package of yummy goodies chosen by Judy from
Pizzazz APlenty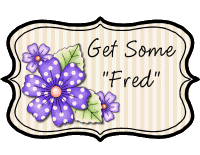 ... and a $30 Gift Certificate to the Fred She Said Store :)
The
WINNER will be announced Saturday morning July 30th
on the Fred She Said Blog AND the FSS Challenge Blog.
***
When you are done hopping and WANT TO BE SURE you can notified if you win, please email
fredshesaid.contest@gmail.com
with blog hop and your name ( you used for your comments ) in the subject line. This isn't necessary BUT, if you don't contact us within a week ( following Saturday) and we are unable to contact you to let you know you won... a new winner will be chosen. Just sayin' ;)
******************************
HERE IS THE LIST OF BLOG HOP STOPS:
Fred She Said BLOG
comments here will not be entered for prize
DANI
MARLENA
ROBIN
NANCY
DONNA
VICKI
DEBBIE
CAROL H
DARSIE
MICHELLE
ANNE
CHALLENGE BLOG
( Tracey's hop post is here)
NOW it's MY TURN :)
I have combined a few of my current favourites on this card. I am re-smitten with this
ORNATE BUTTERFLY,
and my LASER PRINTER, and PURPLE accents, and
PEARL STRING
and
ORGANZA
and GLITTER, and NEOCOLORII WATERCOLOR CRAYONS, and AURORA BOREALIS/Iridescent
FLATBACK GEMS
! ... whew!!!! I watercoloured the butterfly with the NeoColors as well as creating the background with them. I glue pen'ed the light areas of the butterfly then added Glamour Dust. The Aurora Borealis gems ... love them.. they go with everything and add a vintage flair... they remind me of my gramdma's vintage carnival glassware she kept in her china cabinet. so pretty.
I hope you had fun HOPPING with us! Thank you DT, Donna and Pizzazz Aplenty for a great HOP!
pppst.. don't forget to comment here to count as an entry :) Have a great day and GOOD LUCK!